Fakes & Copies
How to Spot a Fake Hair Bungee
It's said that imitation is the sincerest form of flattery and while that may be true in some form, when it comes our customers (you) being mislead into buying inferior products then you have to question the integrity of these businesses. We often receive complaints or claims from people that we're more than happy to assist, only to find they have unwittingly purchased a Hair Bungee copy from an unethical vendor.
So to help protect you (and your money) we publish those businesses that seem to feel it's not only fair to sell you non-genuine products but to also misrepresent themselves as being an authorised Hair Bungee distributor.
Other Brands / Copies
Of course there are other brands out there selling "bungees", but at least they have the decency to identify themselves with a different name and branding. We welcome their competition as it is at least on an equal playing field and if you can't afford a real Hair Bungee or are not concerned about quality, please buy from them because no one should be without a bungee!
Spotting a Fake
Look for the Hair Bungee logo, is there a photo of our packaging? How many are they selling in a packet? - Hair Bungees are only packaged in lots of 4. Look at the hooks, do they look right? Do they have Hair Bungee's full range of colours (Black, Brown & Blonde). If you're unsure if the Hair Bungee you're looking at is genuine, please email us at This email address is being protected from spambots. You need JavaScript enabled to view it. and send us the link. We'll authenticate the product and the distributor in our reply.
Business Name: TILT PROFESSIONAL MAKEUP LTD (London UK)
Distributor Status: No
Owner: João Baptista Viana & Thiago Nobuyuki Ferraz Nishimoto
Domain Owner: Identity Hidden
Infringement Type: Trademark - Name (Title: Hair Bungee) and Image Copyright (Hair Bungee Product image and 'How to' drawing).

Authenticity Errors:
Unknown to Hair Bungee Australia
Selling in lots of 2.
No Hair Bungee brand or packaging
Only two colours available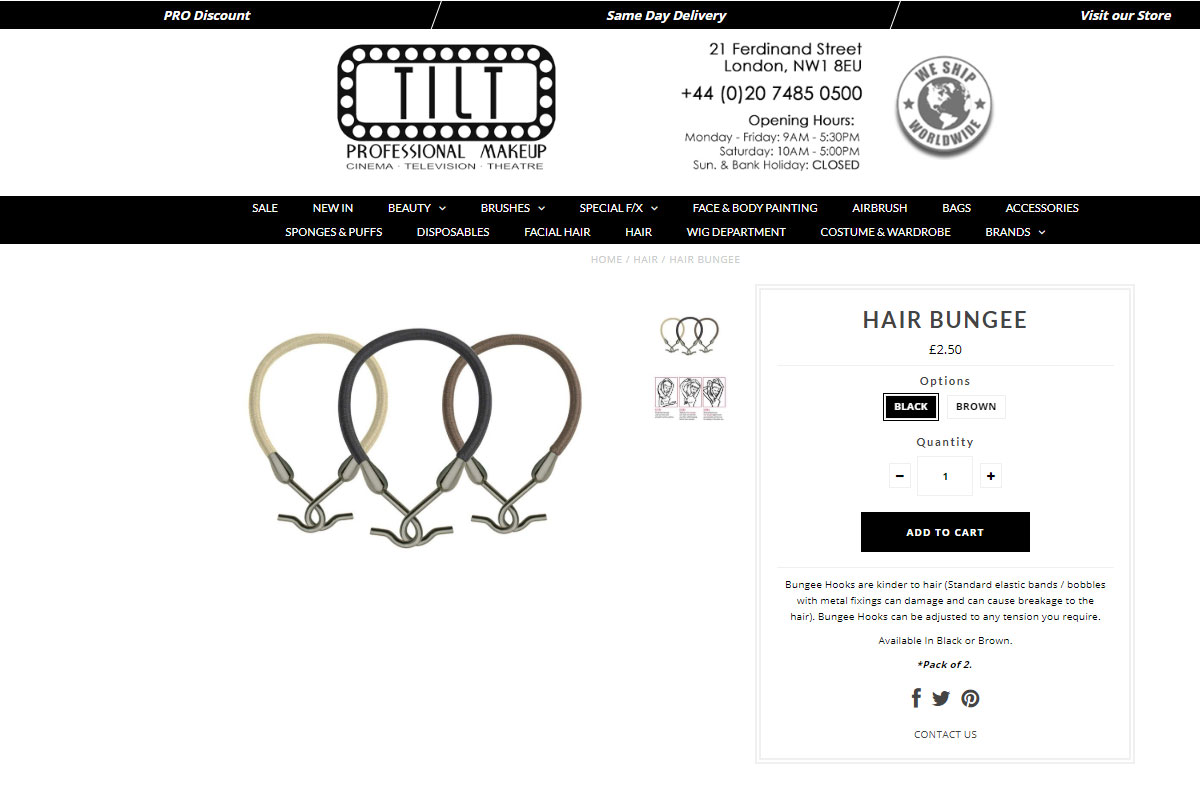 Business Name: Hair & Tools (USA)
Distributor Status: No
Owner: Tugce Karapinar
Domain Owner: Mustafa Avci
Infringement Type: Trademark - Name (Hair Bungee Original)

Authenticity Errors:
Unknown to Hair Bungee Australia
Single crimp hook attachment, wrong shape design and sharp needle point finish.
Selling in lots of 10.
No Hair Bungee brand or packaging
Only single colour available